SAP Monitoring with eG Enterprise Ensure peak performance for critical SAP applications
SAP Monitoring
SAP applications are business critical and slow or poor performance of these applications results in significant revenue loss. Therefore, performance monitoring of SAP is important. SAP infrastructures use multiple application tiers (web dispatcher, Java stack, Business Objects, HANA, etc.) and in-depth visibility into these tiers is essential for accurate and rapid diagnosis. eG Enterprise for SAP helps IT managers assure the performance of their SAP applications. By monitoring, analyzing and correlating the performance of all the tiers that support SAP access, it helps administrators proactively detect, diagnose and fix SAP performance problems quickly, before users notice.
Challenges
While the use of multiple tiers to support SAP access offers scalability, it also makes monitoring and diagnosis harder. Since there are inter-dependencies between the tiers, a problem in one tier can impact all the other tiers. The administrator's challenge is how quickly he/she can identify where the cause of an SAP application slowdown lies (i.e., in the network? firewall? web? Java stack? ABAP stack? database?).
The growing adoption of virtualization for hosting SAP applications poses additional challenges for SAP monitoring. The application performance is affected by that of the VM and the hypervisor it is running on.
Features
Total Performance Management for SAP Applications
In-depth monitoring of every SAP tier – web dispatcher, SAP Basis/ABAP stack, Netweaver/Java stack, HANA in-memory database, Business Objects, etc.
Monitoring of the application and infrastructure tiers supporting SAP including the network, database, virtualization, and storage tiers
Auto-baselining of metrics so that alerts are triggered if any metric deviates from the norm
Automatic correlation and root-cause diagnosis to allow administrators to diagnose problems with a single click
Deep Insights into SAP Performance
Visibility into Java virtual machine (JVM) performance: thread activity, locking, garbage collection, heap and non-heap memory usage, class loading, etc.
SAP ABAP performance metrics: memory buffer utilization, active users, step-by-step transaction latencies, free worker processes, jobs scheduled and executed, database connections established, application errors, etc.
Cross-tier visibility including network, database, virtualization platform and storage
Time-based correlation of performance across the different tiers for easy analysis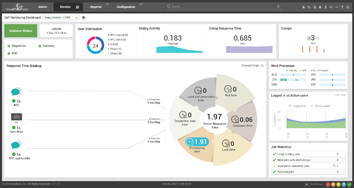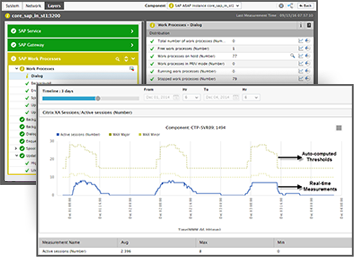 Auto-Baselines the Performance of Each Tier for Preemptive Alerting
Establish time of day baselines for each metric, based on history
Multi levels of baselines for problem escalation
Ability for administrators to specify baselines
Proactive, multi-modal alerting via email, web, mobile, SMS, trouble tickets, etc.
Automatic, preemptive alerting of issues
Identify the Root-Cause of SAP Performance Problems with One Click
Models each tier with a unique hierarchical layer representation (supported out of the box for 180+ applications and platforms)
Service topology maps highlight inter-application dependencies
Auto-discovers hypervisor to VM, VM to application and inter-application dependencies
Patented correlative intelligence technology analyzes performance across tiers and identifies where the root-cause of the problem lies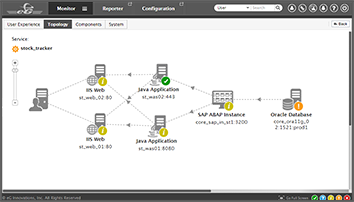 Benefits
By proactively detecting and resolving SAP application problems quickly, you can ensure business continuity and keep your users productive and satisfied
Increase business efficiency by ensuring great performance and uptime for SAP applications
Clear demarcation of problems ensures that only administrators responsible for fixing a problem are involved in troubleshooting. This helps optimize the usage of over-worked domain experts
In-depth analytics enable SAP architects to optimize their application infrastructure to deliver better performance
Provide a consistent and unified view for all the different stakeholders in your organization